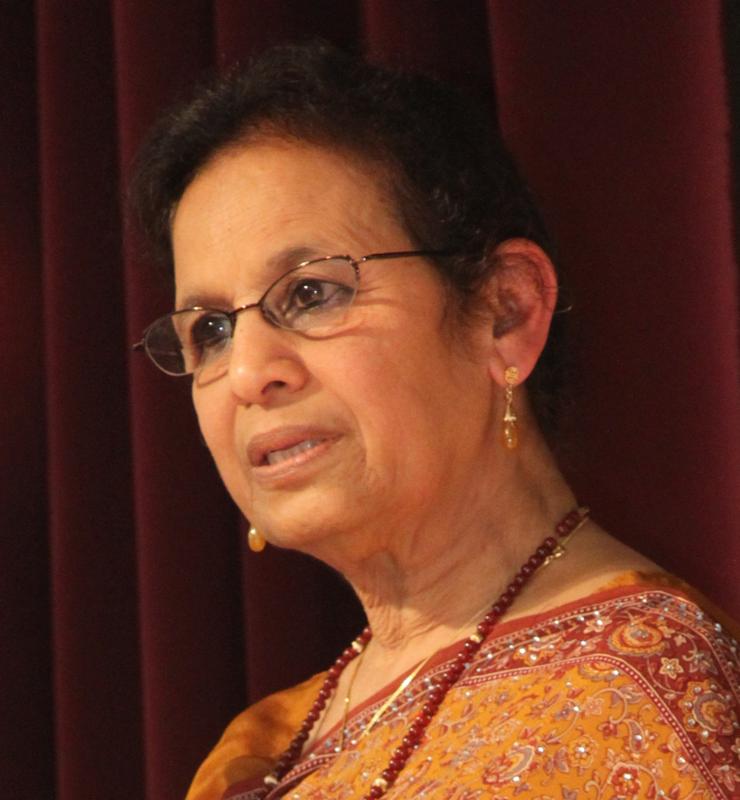 Hamida Banu Chopra is passionate about Urdu language and literature and has been teaching it for over 30 years. She has been a lecturer at the University of California at Berkeley and taught at various places around the San Francisco Bay Area including at the India Community Center in Milpitas. Most recently, she has been a visiting faculty at the Indian Institute of Technology (IIT) at Gandhinagar in Gujrat, India.
Over the years, she has taught a broad variety of people from all walks of life. Her students have ranged from artists to engineers, teenagers to parents to grand-parents, from native Hindi/Urdu speaker to ones not familiar with the sounds of the Indian sub-continent. Her courses include Urdu Language classes as well as Urdu Poetry and Literature, both for beginners and advanced students.
Hamida Banu Chopra has been reciting poetry since she was a child. Her mother taught her how to recite in her school days, and Urdu poetry has been an integral part of Hamida's life ever since. She has been invited to recite in many events, both large and small, in the United States and India. For the past 2 decades, she has held poetry recitals in the San Francisco Bay Area, known as Gulistan-e-Nazm and Yaad-e-Raftgan, where audiences have come to enjoy, learn and be exposed to selected Urdu poems and learn about the life and works of the great poets.
Chiragh-e-Urdu is the brainchild of Hamida Banu Chopra. She feels strongly that this beautiful language, its writings and its culture should be preserved, spread and promoted throughout the world. After several years of different approaches and experiments, we have now succeeded in designing and launching this website where people can learn Urdu, listen to poetry, enjoy MeHfils, read articles, etc.
Acknowledgements
We would like to acknowledge the dynamic group of people who have helped to generate and put together the material that is presented here. There were many ideas that were tested, hurdles that were overcome and details figured out by Muzzamil Hasnain, Arvind Kansal, Shaukat Ajmeri, Nitya Kansal, Anil Chopra, Nagesh Avdhani, Vijay Ganpule, Sohail Ahmed, Nuranne Dairkee, Nasreen Chopra. All of them have in common their dedication to the language and culture of Urdu and have worked over the years to support Chiragh-e-Urdu.
Curriculum Vitae